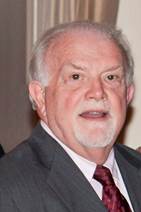 Dear IPI Community,
On October 27th we lost a valued friend and colleague, Walt Ehrhardt, Ed.D., L.P.C (August 26, 1940–October 27, 2022). Walt was a founding faculty member of IPI National (1996) and a long-serving faculty member in the Couple, Child and Family Certificate Program. He established a minority scholarship fund that came to be known as "Walt's List," and he was Dean of Students in the early 2000s. In 2004, he was instrumental in bringing the IPI Weekend Conference—"Object Relations Couple and Family Therapy"—to his native New Orleans and co-chaired it.
Walt served on the Steering Committee of Psychodynamic Psychotherapy Program (PPP) and other IPI committees. He presented, taught, and supervised in the Psychodynamic Psychotherapy Consultation Program and the PPP.  Additionally, he served as the Director of the New Orleans satellite of the International Institute of Object Relations Therapy (IIORT) and maintained a private practice.
Walt had a unique career path—he initially pursued theological studies and later obtained psychodynamic training with children, adolescents, adults, and couples and families. Walt integrated the spiritual with the psychological, often discussing the soul and the self. He worked rigorously and religiously to develop and make use of his kindness and his strength. He was devoted to his community, most noticeably after Hurricane Katrina, when he continued serving traumatized families even though his family experienced the destruction and devastation. IPI will always remember how much he taught us about the impact of personal and environmental trauma.
We share fond reminiscences of Walt. He will remain in our hearts as a fine man, therapist, teacher, and colleague who was warm, empathic, intelligent, giving, kind, hospitable, and nurturing. With these words of remembrance, I offer my warm condolences to all those who are grieving the loss of Walt. He will be greatly missed.
Sincerely,
Caroline Sehon
IPI Director