December 3, 2021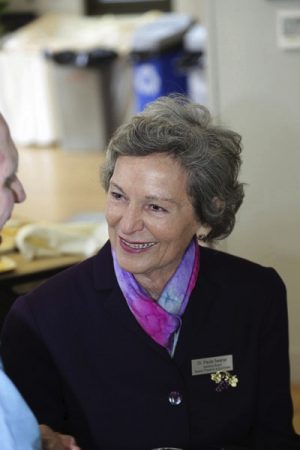 I am sad to inform you that the IPI community lost a friend and esteemed colleague. Dr. Paula Swaner (Nov. 23, 1927–Nov. 30, 2021) was a clinical psychologist, a founding faculty member of IPI National (1997) and Faculty Emeritus beginning 2007, and founder of the IPI Salt Lake City affiliate. Throughout her work at IPI, she maintained a private practice while also engaged in the Salt Lake City psychotherapeutic community and at various community mental health clinics.
Dr. Swaner had a distinguished career as a psychotherapist, educator, and leader. She spearheaded community mental health initiatives, such as the Rocky Mountain Psychological Center (2003) and the "Perspectives on Prejudice" project (2003–2006) in collaboration with the Utah Psychological Association, the Pacifica Graduate Institution, and the IPI. She received numerous awards and honors, including the Heart and Hands Award from Cornerstone Counseling Center (2001), Norman S. Anderson MD Award for Distinguished Service to Mental Health (2002), and Lifetime Achievement Award from the Utah Psychological Association (2008).
Dr. Swaner passionately advocated for environmental protection and preservation. She founded a refuge for wildlife named the Swaner Preserve and EcoCenter. The lovely photo of Dr. Swaner was taken by her daughter, Diana Swaner, as she stood in front of a sculpture created by her son, Leland "Tad" Swaner, in front of the EcoCenter. The EcoCenter is a site for community gathering, and thus an apt image to remember her fondly within our IPI community.
Paula's generosity was not limited to the preservation of nature and the eco-system, but led her to support colleagues in Salt Lake who aspired to become members and contributors to the community of analytic therapists. She mentored many of them, and contributed largely financially to support the IPI training of the first cohort of Salt Lake City colleagues, had the vision to sponsor IPI's first use of distance technology so that infant observation and analytic therapy supervision could come to Salt Lake. It is no exaggeration to say that the dynamic psychotherapy community in Salt Lake would not have come into existence without her.
Many of us at IPI share fond reminiscences of Dr. Swaner. She will be remembered as a warm, intelligent, kind, hospitable, and nurturing person who had an unquenchable thirst for knowledge and a fierce determination to accomplish the goals she set for herself and her collaborators. She had a highly developed sense of esthetics and beauty, loved to host gatherings in her beautifully appointed, spacious home, and provided catered gourmet food at virtually every event she sponsored.
Dr. Swaner will remain in our hearts as a treasured psychotherapist and community mental health advocate, as well as a friend, colleague, and IPI presenter. With these words of remembrance, I offer my warm condolences to all those who are grieving the loss of Paula Swaner.
Sincerely,
Caroline Sehon
IPI Director