April 2020
Yolanda Varela, PhD, President, IPA Panamanian Association of Psychoanalysis (Provisional Society); supervising analyst, IPA; supervising analyst and graduate, APsaA International Institute for Psychoanalytic Training.
Thoughts arising at Town Hall Meeting:
Changes in Frames: COVID-19 and Teleanalysis
With so many countries under lockdown to flatten the curve of the COVID-19 pandemic, the frame of life and work has completely changed.  Analysts who always conducted analysis in their private office, now are forbidden from traveling, and must stop practice or continue to see their patients in virtual space, each connecting from their own home. As always, crises bring opportunities for new experiences for us and for our patients.  I would like to address my experience under three headings: the use of teleanalysis, the early anxieties that are stirred in the patient, and early anxieties that are stirred in the analyst.
The use of teleanalysis
Unlike some of my colleagues who had never engaged in technology mediated treatment, I had experience to draw on.  I had already completed a personal analysis with an ApsaA certified analyst, and much of it was necessarily conducted using the telephone at first, and later using Voice over Internet Protocol with web camera.  I had had a full analytic training too — but not one that was approved by ApsaA.  Then FEPAL (Psychoanalytic Federation of of Latin America) authorized ILAP (Latin-American Institute of Psychoanalysis) to offer psychoanalytic training in Central America, as a global outreach project of the International Psychoanalytic Association.  When ILAP arrived in Panama, one of its requirements was that analytic graduates like me who had already completed a personal analysis would have to do an extra 200 hours of condensed analysis "in-person"  that is, traveling to the city where our analysts lived, or meeting in Panama with an IPA authorized analyst newly immigrated to Panama.
In order to meet the new requirement, I would do the extra hours.  I decided to travel to the United States to resume with my analyst, but what I chose to do with the extra time in analysis was to focus on what is not represented in me, on my early anxieties.  To address these effectively, I decided to continue my required in-person analysis with four-times-a week videoconference technology mediated sessions between trips to the United States.  For me, analysis "in-person" continues to be the preferable one, but at no time were transference and countertransference aspects lacking in the technology-mediated portions of the treatment.  In fact, it was the change in the frame that evoked the very early anxieties and enabled me to analyze them.  This experience gave me confidence in the use of teleanalysis.
Now I am analyzing my own patients in Panama in traditional, in-office analysis.  Occasionally I am asked to do teleanalysis.   For this, I establish new rules.  First, I use the most secure and stable platform (in my case ZOOM) and I don't let the patient decide the platform.  Before each session, the patient receives a link to access the session with a password that only the patient knows.  I explain to analysands that they should look for a private place, where they can recline, similar to the office couch, with the camera on one side and behind them, simulating my position inside the office.  I greet them with the usual greeting, they recline and lose eye contact with me, but if they turn their head back, they will be able to see me.  I think we should stick to rules for technology mediated treatment that are similar to those in use for treatment in the office.  Beyond these arrangements to secure the external frame, I also shift my internal frame.  It was José Bleger's article on the psychoanalysis of the frame that helped me to develop my technique in teleanalysis, and so help my patients. Bleger asks us to analyze what lies hidden behind the traditional, well-established frame.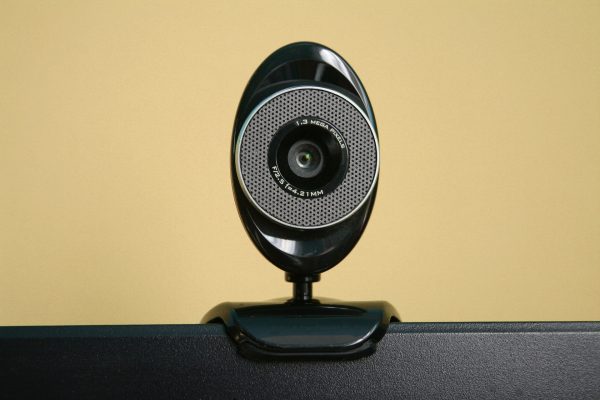 Early anxieties of the patient
During the past three weeks in quarantine because of COVID-19, I have been transitioning my in-office patients to technology mediated psychoanalysis and psychotherapy.  Because of social distancing to fight the COVID-19 pandemic, analysands usually treated in the office must now set up a private treatment space of their own choosing.  At first, the sessions are dominated by worries about getting sick, the loss of social contact, and being trapped at home with children while trying to work. Behind the emphasis on COVID-19 lies the loss of the analyst's physical presence and the loss of a safe office, which now seems like a uterus from which the patients were extruded.  Having to see the analyst on the screen, and put up with the times that the image freezes as well, the analysand feels as if the analyst is removing affection.  These fears of loss of response and loss of love result from early fears related to the dead mother.  Fears of viral invasion echo fears of the mother's death drive, drowning the patient's desire for life.  Feelings of hopelessness, helplessness and lack of trust in agencies that are supposed to protect us (hospitals, government, Ministry of Health) reflect early attachment insecurities, and convey transference to the analyst as an unreliable object.  With the change in frame from in-office analysis to teleanalysis, I have been able to observe the expression of very early anxieties in analysands who were previously seen only in the office.
Anxiety of the analyst
Freud's warnings about the dangers of changing the frame of analysis are echoed by our own psychoanalysts, supervisors and colleagues, especially when confronting any change from the traditional in-office setting to the teleanalytic setting. Teleanalysis is frequently regarded as a transgression. The transgenerationally transmitted superego will have to be somewhat pacified to understand the current situation as a necessary and effective adaptation that brings us the possibility of continuing to work and of countering the guilt of not being able to do more for our patients, a problema that Eizirik pointed out in a recent IPA webinar.  Patients come to us with a fear of death and we receive them with our life drive.  To support our life drive, we need to pursue our own pleasure and part of that  is our work. We will have to continue to be linked to life, taling with colleagues in Town Hall meetings like this, keeping in touch  with friends and family, accepting and not denying reality, but without being suffocated by it.