The members of the International Working Group on Teleanalysis hosted at the International Psychotherapy Institute were sad to learn that Asbed Aryan, who seemed to be getting better, had suddenly lost his fight with cancer. Asbed was such a kind, generous man, which came through so clearly in his clinical work.  He was a devoted training and supervising analyst who pioneered the use of technology in distance analysis with a candidate in Armenia, and the author of books on adolescence such as Clínica de Adolescentes co-written with Carlos Moguillansky. We knew Asbed as a committed participant of our International Working Group in Teleanalysis since its inception many years ago, enthusiastically participating from Buenos Aires with his dear colleague Liliana Manguel in our monthly online meeting, faithfully contributing to our meetings even amid treatments for his illness.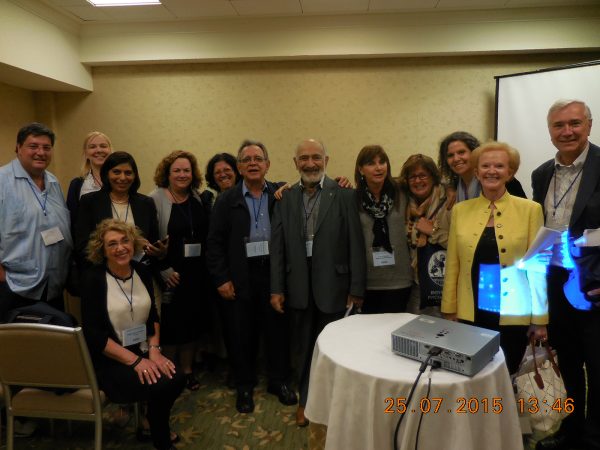 We first met Asbed in Chicago when separate interests in teleanalysis brought us together for an IPA Congress panel on teleanalysis. Our separate proposals were joined, continents were bridged, and the resulting panel was presented with simultaneous translation and chaired by Charles Hanly. Since then we've collaborated successfully on shared proposals for IPA precongress workshops held in Mexico, Boston, and Buenos Aires, research panels, and book chapters, the latest of which "Psychoanalytic Process in Cyber-technology" will be published posthumously in Psychoanalysis Online 4: Teleanalytic Practice, Teaching, and Clinical Research, edited by Jill Savege Scharff (Routledge, October 2018).
We will always remember Asbed's intensely intelligent contributions from his great experience in this field. What good work he did for psychoanalysis, with great sympathy and devotion for those at a distance from major centers: What fun we had talking half in Spanish, half in English with Asbed at Congress banquets! We remember how much he enjoyed coming with us for dinner at the Cosmos Club in Washington DC. We will miss our loyal friend, and will be holding his family and his colleagues in Argentina and Armenia in our minds and in our hearts in the days and months to come.
In sympathy and affection,
Jill Scharff, Founder, and Caroline Sehon Chair, and members of the International Working Group on Teleanalysis hosted at the International Psychotherapy Institute www.theipi.org