Caroline Sehon, Chair of IPI-Metro and Mary Morgan, Head of MA and Clinical Training in Couple Psychoanalysis and Psychotherapy at the Tavistock Centre for Couple Relationships (TCCR) were elected, and Lea Setton and Hanni Mann-Shalvi were both re-elected, to the Board of the International Association of Couple and Family Psychoanalysis (IACFP) at the end of its Sixth Congress in Bordeaux, France. Their election is important as the IACFP governing body reorganizes to improve access to the English-speaking minority and foster greater networking amongst organizations, such as the European Federation for Psychoanalytic Psychotherapy, the International Psychoanalytic Association, and the British Society of Couple Psychotherapists and Counsellors.
At the opening ceremony in the elegant Hotel de Ville, analytic couple therapists from around the world were welcomed by the office of the mayor and the outgoing president of IACFP, Alberto Eiguer, who introduced the theme "Body, Family, Couple" translated in three languages. David Scharff was the invited speaker in English (with serial translations read by Jill Scharff and Lea Setton, with thanks to Vali Maduro for translation help). He spoke on issues encountered in teaching couple psychoanalysis in China, a traumatized country where traditional psychiatric treatment has focused on symptoms expressed in the body of the individual.
Each morning a plenary presentation with simultaneous translation featured keynote speakers including Andrew Balfour and Hanni Mann-Shalvi, both of whom are known to IPI as presenters in the videoconference course on couple therapy. David co-chaired one of these plenaries.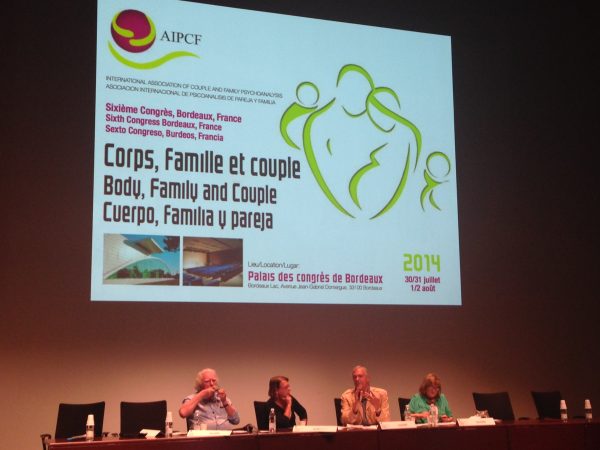 We noticed that the French and Spanish-speaking presenters relied heavily on Kaës, Pichon-Rivière, and Anzieu, with much less reference to Bion and Winnicott than is common at IPI.
Each afternoon there were small, single-language panels. At one of these, David and Jill Scharff presented a clinical case to illustrate the cultural issues introduced in his address at the opening ceremony. Jill chaired an English-speaking panel that included Maureen Boerma, Training Director of TCCR, and Anastasia Tsamparli (with whom David and Janine Wanlass are collaborating to organize a summer institute in Rhodes next summer). Maureen applied Bion to couple therapy, using many vignettes from various couples: Anastasia applied Ogden's theory of the third in a couple whose histories kept them locked in a destructive dyad that posed a challenge. Chris Vincent chaired a panel on the family body, and he presented a paper of a couple case in which the partners' history of early trauma led to a shared defensive system against separation anxieties which were understood within the transference-countertransference. Caroline Sehon and Lea Setton presented a case illustrating how a family's unmentalized trauma was expressed through psychosomatic links as illustration of Pichon-Rivière's theory.
At the closing reception, we had fun winetasting, dining and dancing to a jazz trio in the cellar of Chateau du Taillan, a working vineyard.