Jill Savege Scharff and Caroline Sehon
At the summer institute "Couple, Child and Family Therapy: Links from Theory to Clinical Practice" co-organized by the International Psychotherapy Institute (IPI) and the Department of Primary Education at the University of the Aegean, participants gathered from Greece, the United States, Canada, Israel, Australia, and South Africa to study together in Rhodes.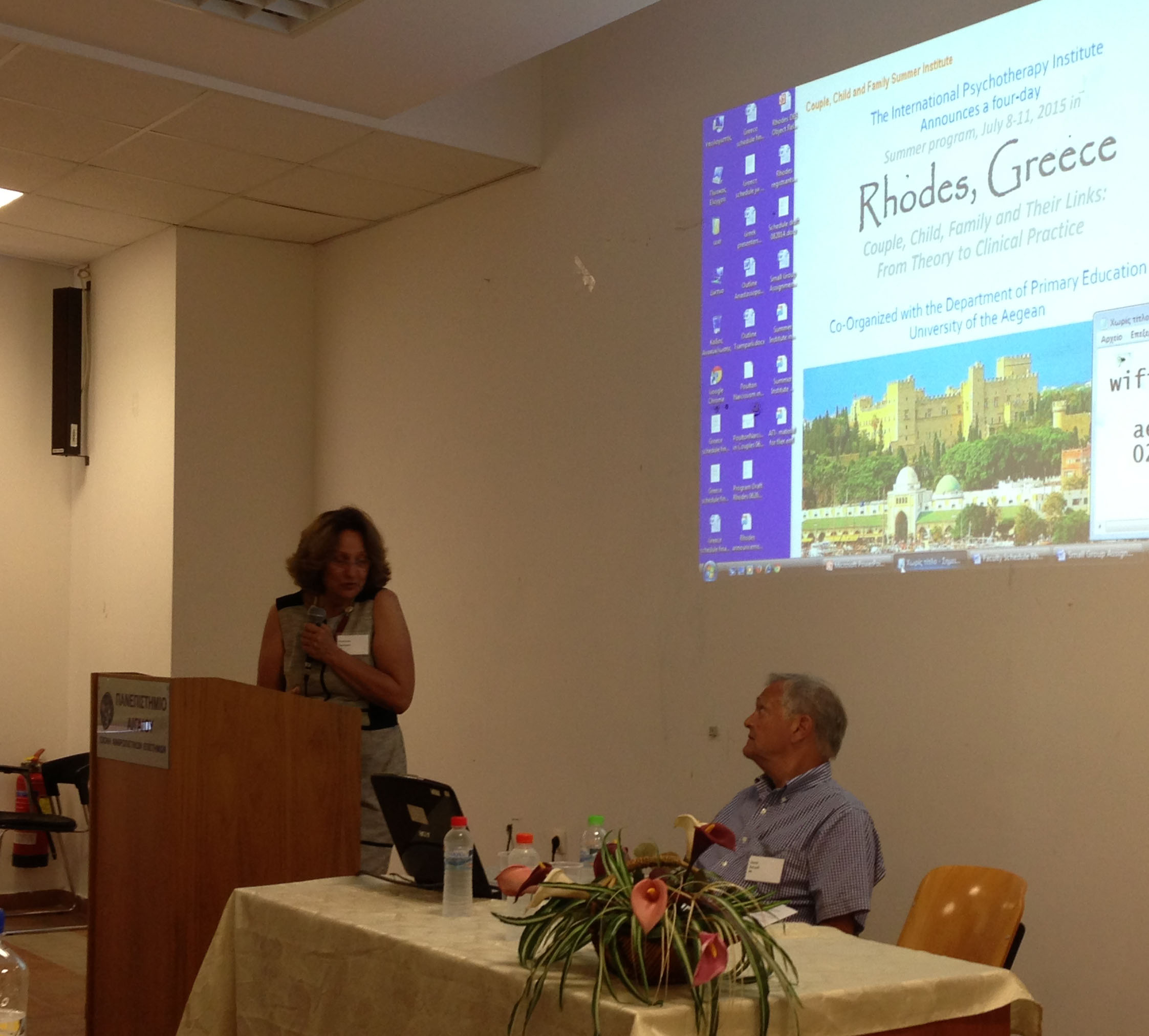 Led by David Scharff and Anastasia Tsamparli, the institute featured presentations by Greek and American child psychotherapists, couple and family therapists, and child analysts. David Scharff gave a theoretical and clinical introduction to object relations couple, child and family therapy to set the base on which the presenters built their talks. Janine Wanlass, Director of IPI, taught assessment of families and couples. Ionas Sapountzis, a Greek-American psychologist returning to his homeland, shared his Winnicottian approach to children with ADHD. Following her interest in field theory, Caroline Sehon gave a talk on decoding the links in families with psychosomatic difficulty. Jim Poulton of IPI-Salt Lake City gave a literature review of the concept of narcissism and illustrated its destructive effects in couple relationships. Greek colleague Dimitri Kyriazis elaborated on the destructive psychotic links in couple and families.
Jill Scharff outlined the history of the development of the concept of projective identification and why she has found it helpful in working with couples and families. Vali Maduro, Chair of the Couple, Child and Family program at IPI, took the concept of projective identification to the arena of the family where couples may project into their children. Norma Caruso addressed issues of sexuality and intimacy in couple therapy. In a related but very different presentation the summer institute host Anastasia Tsamparli spoke of the negotiation of sexual desire and the analytic third in couples. Dimitris Anassopoulos intrigued us with a highly complex paper on the analyst's contribution to the intersubjective process.
We understood in discussions with our Greek colleagues that the economic situation is extremely uncertain. Many of them had lost patients that week and thought of canceling because of the crisis, but they came. As Americans we were buffered from the squeeze, since our credit cards backed by American banks were welcome whereas our colleagues' could withdraw only 60 Euros a day or less. We were impressed by the Greeks' willingness to confront the crisis and set it aside in order to learn.
In her opening speech of welcome, Anastasia said that although the crisis is humiliating, and everyone feels scared, we cannot succumb to feeling awful. We must keep on doing what we do, and keep thinking. Her clarity and strength of character was inspiring and set the tone for acknowledgement of the real crisis in the there-and-now and focus on the here-and-now of the learning process.
Participants new to IPI events were especially appreciative of the small group using the Group Affective Model (GAM) as a place to integrate professional cognitive apperception and personal emotional response to the material about couple, families and children.  As foreigners, the group leaders worked through group transferences that reflected the apprehension felt by Greece towards privileged nations to create a secure holding environment where these charged affects could be voiced, thought about, and understood as they relate to family dynamics and cultural context.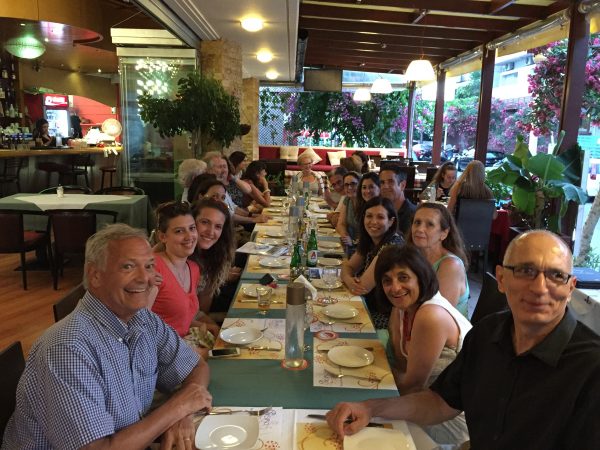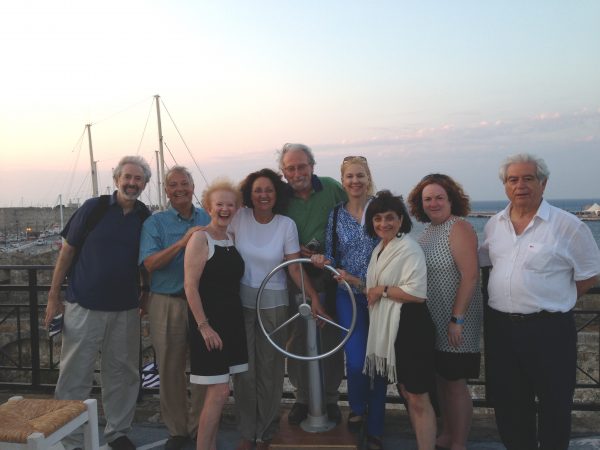 For example, having heard presented a vignette of a couple in which one partner unconsciously evoked in the other a sadistic response, the small group related these unconscious pulls to similar forces in the troubled marriage of Greece and Europe.
Despite the tremendous uncertainty, anxiety and terror at this crucial moment in history, there was an impressive turnout. The quiet space to think away from turbulent Athens brought relief and pleasure, but also led to guilt and conflict about family members left at home burdened by worries, such as whether they would lose their jobs, or how the political machinations would ultimately be resolved.
Nevertheless, Anastasia and her colleagues managed to give the visitors a wonderful Greek welcome, with informal dinners, a rooftop party courtesy of the University of the Aegean, trips to the sea, and Greek dancing which having watched a performance we were coaxed into getting on the cement floor of the balcony to participate in this Greek expression of emotion.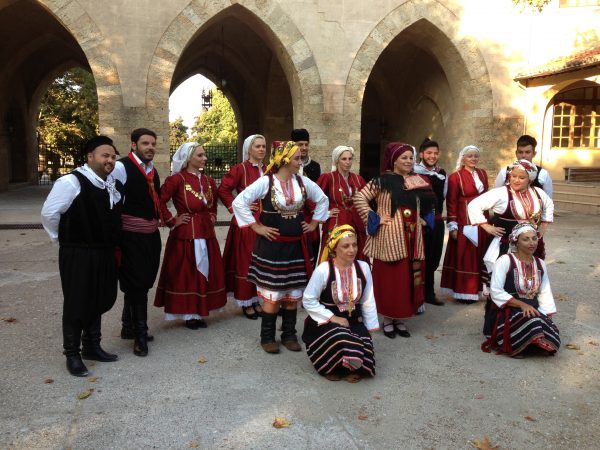 The IPI contingent returned to America grateful for all our opportunities at home, and impressed by the generous spirit of our Greek colleagues. We hope to see our Greek colleagues again soon, if not in person, then when they connect to IPI's couple therapy videoconference training program.