An annual online lecture featuring distinguished guest speakers in the fields of psychoanalysis and psychotherapy.
Program Date(s):
September 29, 2023
2023 Anne Alvarez: Destruction, Distraction, Deliverance - Can we change the subject?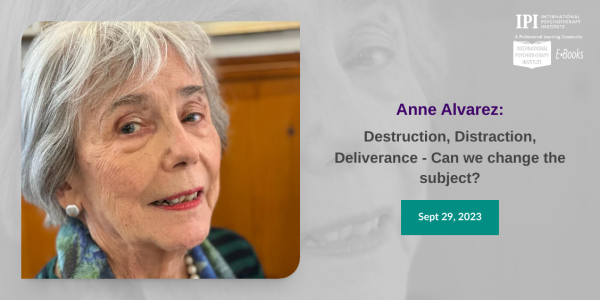 IPI is excited to honor Anne Alvarez as the inaugural Scharff Award keynote speaker. Anne is a consultant child and adolescent psychotherapist, and retired co-convener of the Autism Service, Child and Family Department at the Tavistock Clinic, London, where she still teaches. She is author of numerous publications including "Live Company: Psychotherapy with Autistic, Borderline, Deprived and Abused Children." "Being Alive: Building on the Work of Anne Alvarez" was edited by Judith Edwards in Anne's honor. She was visiting professor at the San Francisco Psychoanalytic Society in November 2005 and she is an honorary member of the Psychoanalytic Centre of California. Her latest book is titled, "The Thinking Heart: Three Levels of Psychoanalytic Therapy with Disturbed Children."
Dr. Alvarez's lecture will be hosted by the International Psychotherapy Institute via Zoom on Friday Sept 29, 2023 from 12:30pm-2:00pm US Eastern Time. The Scharff Award Lecture is free to registered participants, thanks to the generosity of Jill and David Scharff.  Registration is required.
2021 Sigourney Award Recipients: Jill Savege Scharff and David Scharff
The Sigourney Award is the highest distinction in the field of psychoanalysis. Founded by Mary Sigourney, the award honors innovative advancement of psychoanalytic thought and practice around the world. Eligibility criteria include initiatives that (1) heighten the visibility of the field of psychoanalysis and its applications to other disciplines; (2) interest young people in studying psychoanalysis; and (3) encompass diversity, equity, and inclusion.
David and Jill Scharff are the first couple to receive the Sigourney Award together in the same year.  The Scharffs earned the award in recognition of their exceptional contributions as pioneers of teleanalysis and training in psychoanalysis, psychotherapy, and couple and family therapy on an international scale. For further information about the Sigourney Award and past preeminent award recipients, you may visit the Sigourney website at www.sigourneyaward.org.
Annual Lecture
Jill and David Scharff donated to IPI the financial award that accompanies the Sigourney prize in acknowledgement of their gratitude to IPI and all the students, faculty and program partners who worked with them to build an international psychoanalytic distance learning community. Specifically, the Scharffs have requested that IPI use their prize money to create a fund for an IPI annual distinguished guest lecture, an online event to reflect their pioneering devotion to teleanalysis and distance learning on a domestic and international scale.
Registration
Click here to REGISTER for free.
Continuing Education Credit Hours
This free lecture does not offer continuing education credit.
Membership Benefits
Become a member of IPI at any level and you will have the option of adding on a Zoom Pro account as one of your member benefits. Associate and Full Members also receive discounted registration fees for most of IPI's events, a subscription to PEP Web, the online psychoanalytic library, and other benefits depending on membership level.
HIPAA compliant Zoom video accounts are an optional add on for all IPI memberships. IPI has a HIPAA Business Associate Agreement with Zoom, which provides a HIPAA compliant platform for our accounts. HIPPA compliance is strongly recommended for all internet-mediated clinical work and clinical teaching. The "+ Zoom Pro" add-on to the IPI membership gives the user the ability to host online meetings with multiple people at the same time. [Current members can upgrade to the "+ Zoom Pro" account and only pay the difference in price from your current membership level.]